Internet that Changes Your Home into Smart Home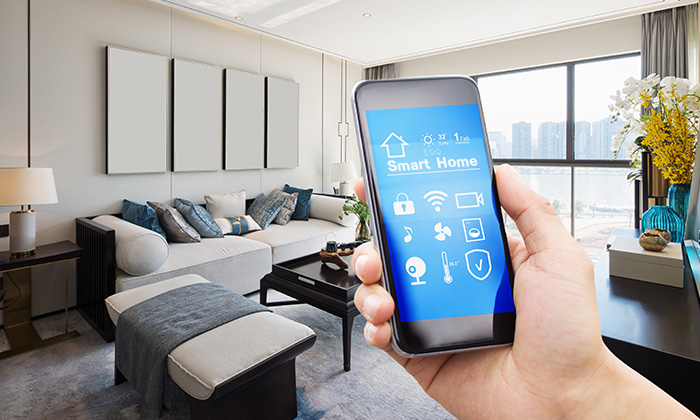 Have you ever wish that you could turn on the air conditioner before you arrive home? Would it be better if you could monitor your elderly mother at work? Or be able to turn off the light that you forgot about after you leave the house? These wishes are no longer just an imagination. Today, internet-connected devices (as known as Internet of Things) has continually been developed to make this comes true. According to Investopedia, "a smart home is a convenient home setup where appliances and devices can be automatically controlled remotely from any internet-connected place in the world using a mobile or other networked device". By having control over devices in your home, you can ensure home safety, save on electricity, and much more.

Set the home atmosphere before you arrive
If today's work life makes you so exhausted each day, having a smart home can help you relax. Thailand is a hot country and we can definitely use Saijo Denki's newly developed GPS cool technology, which will inform you the current room temperature on your smartphone or tablet when you are about 3 km away from home. You can turn on your air conditioner and set the temperature right in your smartphone so that the room will be ready for you once you step in.

Connecting your home WiFi network to other home appliances like light bulbs or CD player can enhance the atmosphere in your room before your arrival. With light bulbs connected, you can schedule the light to turn on or set the light color in your living room. Or, choose the right music for your mood by connecting a CD player. All those things are easily controlled from your smartphone.

Keep an eye on your home
No matter how big or small your home is or whether it is built on land or on a condominium, the safety of assets and life is crucial. Smart home sensors can be the eyes and ears of your home. For instance, a CCTV connected to home WiFi will send alerts to your smartphone or tablets if any motion is detected. Fire sensors can call fire department when it detects any fire. A Smart doorbell equipped with camera allows you to know who is in front of your door without opening it.
These things allow you to monitor activity and react to environmental changes so that you can prevent your assets and persons you loved at home in time.

Track your monthly expense
Some gurus said that you have to spend money smartly. Here's an example of what smart refrigerator can do to save your money. Samsung has developed a refrigerator with the interior camera that takes a photo every time you close your fridge and send to your smartphone, which allows you to see the grocery stock from anywhere. You will always know what has already been added in the fridge and what needs to be purchased. You also can set the expiry date of items and when items are about to expire, alerts will be sent to your smartphone so that you can use them up in time. This can eliminate food waste from over purchasing and you can better plan your grocery shopping the next time.

Take care of the elderly
It is not easy for you to leave your parents alone at home when they get old. However, some technologies can put your mind at rest. In some parts of the world, cardiac monitoring and fall detection sensor has been installed and connected to the home internet. When it detects intermittent heart activity or an accident like a fall, alerts will be sent to you when you are away or send to your parents' doctor immediately.

As you can see, when the internet is connected to home appliances or device, it can benefit you in many ways including convenience, safety, and saving. Now, you can control more things away from home with just a smartphone.