3 websites that facilitates your home space design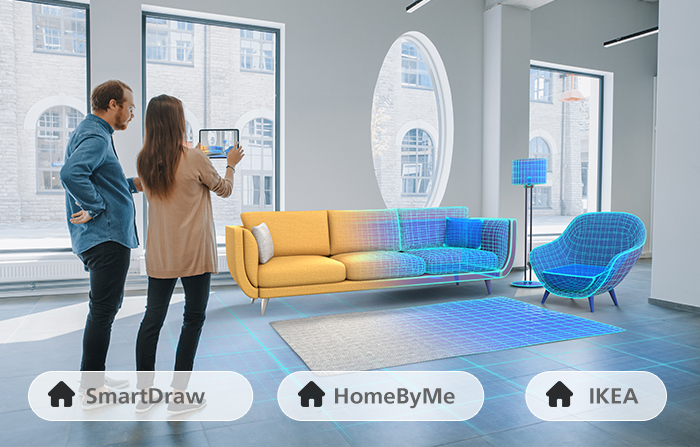 Happiness means different things to different people. For some, happiness is as simple as staying in a cozy and safe home with facilities that suit their lifestyle. That's why some people dedicate a lot of time and attention to creating their own home or personal space. With this in mind, TrueOnline would like to recommend three websites that can provide you with ideas for designing and decorating your home. Importantly, these websites are free, which means you can beautify your home without breaking the bank.
Make your home space design perfect with SmartDraw
The most important aspect of home decoration is space planning and design, from furniture placement to functional zoning for all family members. Design not only allows us to visualize the entire project, but it also ensures that there is a shared understanding between the homeowner and the contractor. During the planning stage, you can make changes to the design as much as you want. Remember that a good plan can prevent unexpected budget overruns. That's why SmartDraw is the ideal solution for you. The website offers features for drawing floor plans that you can use for home, room, and even garden decoration. With these features, you can plot the size of your home, determine the location of partition walls, windows, doors and furniture placement. Moreover, if you're looking for a shortcut to home space planning, SmartDraw provides templates for rooms and buildings in various file formats, including PDF, that you can download for your convenience.
Change your ideas to reality with HomeByMe
Another user-friendly website that provides high-quality virtual image is HomeByMe. HomeByMe offers tools for home and interior design. With the provided tools, you can design your own home with the specific measurements you want and add necessary parts like walls, doors and windows. You can also play with different floor and wall colors and furnish your home using models from the gallery. Additionally, you can view your design in 2D, take a virtual tour of your 3D home, or even create a 360-degree image. And when your project is done, you can save your design for future adjustments or share it on your social media, email, or messaging platforms.
Easy to use planning tools from IKEA
When we hear of IKEA, it is likely that we would think of the leading furniture brand from Sweden, a global brand that is outstanding for its minimal design. But apart from the kind of furniture that you can buy offline or online from IKEA website, IKEA provides you with the Planning Tools, a tool that helps you plan your home. It enables you to design and build your own furniture, create custom room designs from your workspace to your kitchen, customize the furniture by selecting IKEA products, and set dimensions to match your preferences and room size. Planning Tools allows you to create 2D or 3D images and calculate expenses, so you can manage your budget before making a decision.
If you want to renovate your home or arrange your room, now you have access to tools that can help you design your dream space with ease.