Stay fit and firm with home workouts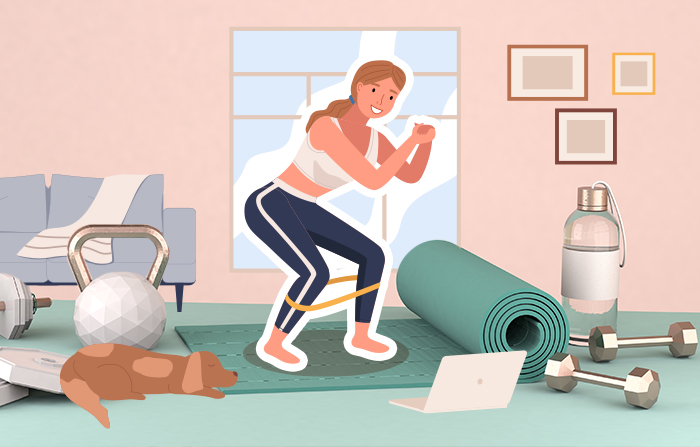 Although the outbreak of COVID-19 has improved, there are still other epidemics on the rise such as monkeypox that give us cause for concern. In an era when people are very cautious about the way of living, especially when having to be close to others, the important factor that will make us safe is health care. Therefore, regular exercise has become more essential than ever. But, many people may not feel safe at the gym because they have to share the equipment with other people. That's why TrueOnline would like to invite you all to exercise at home in a variety of easy to follow styles. Let's get into the fit and firm mode right now.

Raise your heart rate with cardio exercises
Cardio exercises involve repetitive rhythmic movements of the large muscles that help burn calories and allow the body to better manage fat. They also help you lose weight and maintain a good cardiovascular system. Anyone who wants to start exercising in this style can check out Bebe Fit Routine, which combines boxing with the most advanced workouts like HIIT or TABATA. Moreover, Heather Robertson channel also offers a wide variety of cardio workouts that you can follow without boredom. The workout routines are easy to understand and suitable for beginners as well. For those who like to burn calories and dance to the rhythm of music at the same time, try zumba dance with Zumba Class.

Test your muscle strength with resistance training
Resistance training helps increase the strength and endurance of the muscles. It involves the movement of the body in various ways by using resistance from our own body weight, such as push-ups, pull-ups and sit-ups. Equipment like dumbbells may be added in the routine as well. In addition to helping to have more muscle mass, it also boosts energy consumption. The difficulty of this type of exercise is the correct posture. We recommend that you visit Healthline that includes a wide variety of resistance exercises with clear details that are easy to follow. Articles with short clips showing exercise routines that are specific to body parts are also available for those who want their legs or arms to be firmer.

Stretch your muscles with flexibility training
Flexibility training, like yoga, is a stretching of muscles and various joints to strengthen the body's flexibility. This type of exercise increases the efficiency of the body movement, alleviates office syndrome symptoms that often occur in employees who have to sit for long hours. The routines of flexibility training may not look like much because they don't require fast movements compared to other types of exercise. But, an hour of yoga can help you burn at least 100 calories, improve concentration and clear your mind. The recommended channel for people who want to practice yoga themselves is Pordipor Yoga. There are many clips to choose from depending on your interest such as yoga breathing exercises, basic yoga or you can choose to stretch only certain areas as well.
In addition to exercise, eating a balanced diet that is made up of foods from the five food groups will help increase the immune system even more to keep the body healthy. There is no need to be afraid of diseases that seem to spring up like mushrooms if we simply take good care of ourselves.