Give Creatures a Merry Christmas by Online Donations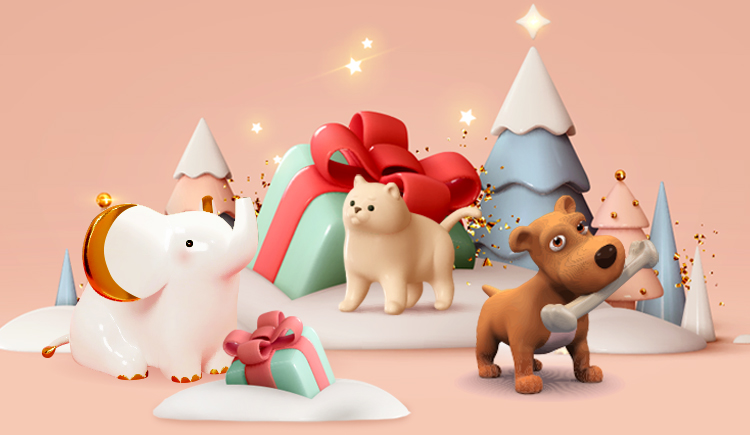 It's the season to be jolly. The trees are up, the lights are set, the stockings are hung, and the gifts are finally unwrapped. But while you're tucked away at home, let's not forget that the spirit of Christmas is one of giving. We give to others to remind them of our compassion and who better to share the love with than animals in need? From the wildlife rescues to the soi dog charities, there are plenty of communities who would benefit greatly from your generosity. In this article, TrueOnline will recommend 3 websites of the communities of that kind where you can visit to donate online.
Wetland critters need some Christmas love too
Thailand's wetland animal population is among the most diverse in the world. But years of deforestation and road accidents have left many creatures injured and in need of lifelong care. Wildlife Fund Thailand provides a home for wild animals harmed by road accidents, construction, and mistreatment. Established under the patronage of Her Majesty The Queen, the Wildlife Fund has cared for snakes, turtles, fish, and migratory birds since 1983. You can donate to their cause directly through their website or by buying one of their souvenirs. Your donations go into providing medication and food to these small wetland animals as well as a place for them to stay.
Help a Puppy Out?
Dogs are precious animals but unfortunately the victims of both road accidents and the Asian dog meat trade. Soi Dog Foundation does its best to help unfortunate dogs that have been affected by either of those. With over 16,000 animals saved from the illegal meat trade and 15,000 treated for sickness and injuries, the foundation looks after hundreds of dogs at any given time across Bangkok, Phuket, and more. Donations through their website will help to provide treatment for injured and sick dogs as well as feed over hundreds of soi dogs. Volunteers are also welcome at their facilities to help clean and cater for the animals. Since the Foundation often has vaccinated cats and dogs available for adoption, you can even adopt a furry friend from the Foundation for Christmas. This can make a particular animal feel extra special.
Make an Elephant happy
Thailand's national animal is also one of its rarest. Years of poaching, deforestation, and human violence have reduced the local elephant population to a fraction of what it once was. The Thai Elephant Alliance Association aims to help these giant animals in dire need, caring for orphaned young elephants as well as the injured and elderly creatures. Many of the elephants in their care are former street animals that were on the streets of Bangkok several years ago. Others suffered from car accidents, land mines, or were victims of abuse. But you can make this year a special one for these animals. Through their website, you can donate to provide an elephant of your choice with a special Christmas treat! The Association also accepts donations of food, money, equipment as well as volunteers willing to help clean and play with the elephants.
Now is as good a time as any to help make a difference for the lives of creatures big and small. Christmas is about the spirit of giving and your kindness can benefit local soi dogs, injured elephants, and even homeless birds. Let's show our animal friends a very Merry Christmas and give them a happy start to a new year.
Author: Tito
Translator: Kae